The SAMA Kickboxing program has something for everyone. Whether you're interested in competition
According to the American Sport Council on Exercise...Kickboxing is well known as an excellent form of stress relief,
Kickboxing inspired workouts have found to improve strength, aerobic fitness and flexibility. The variety of
Movements used in kickboxing can sharpen reflexes and improve coordination and balance. In addition, this type
Of exercise can burn an average of 500-800 calories an hour as opposed to the 300-400 calories typically
Burned by the average step aerobics class.
"SAMA Kickboxing has an outstanding program with attainable goals.
So why not come along and give it a try, you'll find it great, and a great workout
That will send you away buzzing.
Training is done to energising music.
Thinking of making a change?!
Want to get really fit, lose weight and burn fat?
Do you want to tone up and get in great shape?
If you want to increase your strength and improve muscle tone, are interested in competing or just want a great workout, then take action now. 
                     Classes are running near you.
    Scott "Too Hot" Gibson 
Current Holder of the Professional Light Heavyweight iska British Title-Golden Belt Title-Southern Area ikf Title-Current European iska Champion
.
RANKED NO 2 IN THE WORLD
Unbeaten in 9 k1 Fights-23 Full Contact KickboxingFights

IF YOU'RE INTERESTED, HERE IS A BRIEF HISTORY OF SPORT KICKBOXING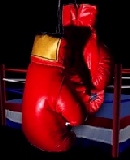 Unlike Thai boxing which is an ancient martial art of Thailand where elbow, knee's and low kicks are used, Sport Kick boxing first originated in America around 1975 and was thought up by a few top practitioners of American karate who were discontented with the lack of contact in karate competition. This group called themselves the P.K.A. (professional karate association). The P.K.A. was therefore the first organised professional kick boxing group in the World. At that time most fights were fought on a matted area, also, fighters could throw their opponent.
American style kick boxing is a sport and unlike Thai boxing it is a bit more safe as it does not allow elbows or knee strikes. The fighter of sport kick boxing must also kick above the waist and although spinning back fist strikes and foot sweeps are allowed in most fighting events, some organisations have now banned this practice. Kick boxing has spread throughout the world and has taken on many different forms within the many different groups that now sanction it.
WHERE DOES THE 'RING' ORIGINATE?
The name ring is an atavism from when contests were fought in a roughly drawn circle on the ground. 
The name ring continued with the Jack Broughton rules in 1743, which specified a small circle in the centre of the fight area where the boxers met at the start of each round. The first square ring was introduced by the Pugilistic Society in 1838. That ring was specified as 24 feet (7.3 m) square and bound by two ropes. For these and other reasons, the boxing ring is commonly referred to as the "square circle."